A Projectile Point Guide for the Upper Mississippi River Valley
by Robert F. Boszhardt; University of Iowa Press; 91 pages; soft cover
For the artifact collector or families that have accumulated arrowheads and spear tips from the Upper
Midwest. Boszhardt's guide allows quick identification of most chipped-stone projectile points from this
region and provides information on their ages and the cultures that made them.
Cost $15
(plus shipping and sales tax)
Deep Cave Rock Art in the Upper Mississippi Valley
by Robert F. Boszhardt; Prairie Smoke Press; 94 pages; soft cover
In this book, Ernie reveals the surprising discovery of two spectacular rock art sites in the Driftless Area. Included are descriptions and photographs of well over 100 ancient drawings (pictographs) found in the dark zones of two sandstone caves where torches were needed to see.
Cost: $25.00
(plus shipping and sales tax)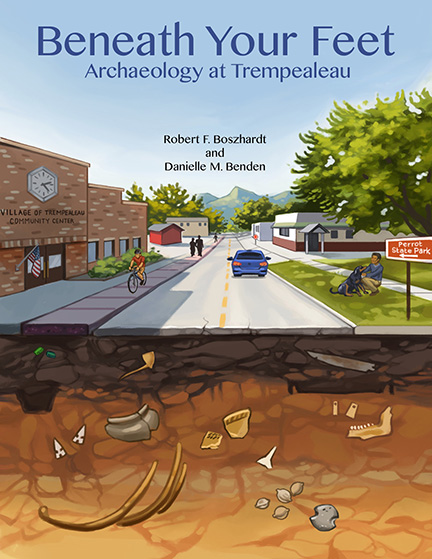 Beneath Your Feet: Archaeology at Trempealeau
Robert F. Boszhardt and Danielle M. Benden; Driftless Pathways; 42 pages; soft cover
This popular booklet provides and easy to read summary of our ongoing research and public outreach in the scenic river village of Trempealeau, Wisconsin. Learn about the unique thousand-year-old Native American religious mission at Trempealeau. Gain insight into why Mississippian people travelled over 500 miles up the Mississippi River from their homeland of Cahokia, bringing with them all of their belongings, their architectural style, and religion to a land surrounded by Effigy Mound peoples. Beneath Your Feet contains numerous pictures of recent excavations within the modern Village of Trempealeau, where we have unearthed the remnants of Mississippian houses and artifacts in yards-literally under your feet.
Cost: $15.17
(plus shipping and sales tax)
Twelve Millennia: The Archaeology of the Upper Mississippi River Valley
by James L. Theler and Robert F. Boszhardt; University of Iowa Press; 254 pages; soft cover
This comprehensive summary describes the 13,000-year human history of Native American cultures in the unglaciated Driftless Area of the Upper Mississippi Valley. Written for the public and well-illustrated, this book provides an excellent introduction to the archaeology of the region.
Cost: $28.00
(plus shipping and sales tax)
Hidden Thunder: Rock Art of the Upper Midwest
by Geri Schrab and Robert F. Boszhardt; Wisconsin Historical Society Press; 227 pages; hard cover
This beautifully illustrated book contains cross-over perspectives of an archaeologist, a renowned artist, and Native Americans to share 12 rock art sites in Wisconsin and Minnesota, most of which are on private property and inaccessible to the public. Each chapter begins with an archaeological overview by Ernie that includes the geological and historical setting and contemporary archaeological interpretations, highlighted through color photographs. The archaeology is followed by Geri Schrab's artistic impressions that inspired her water color paintings, many of which are beautifully reproduced in color. Hidden Thunder also includes Native American voices that reflect on rock art and the sacred nature of these sites.
Cost $29.95
(plus shipping and sales tax)